Bestimmungshilfe
/
Schmetterlingsfamilien
/
Geometridae
(Spanner)
EU
←
↑
→
M-EU
←
↑
→

07542
Macaria liturata (CLERCK, 1759) - Violettgrauer Eckflügelspanner
---
1: Österreich, Niederösterreich, "Hartberg" 6 km SSE Neunkirchen, Schwarzerlenbruch in Rotföhrenwald, 480 m, 20. Mai 2002 (Foto: Peter Buchner), det. Peter Buchner
2: Deutschland, Sachsen, Leipzig, 23. Juni 2005 (Foto: Jens Philipp) [Forum]
3: Deutschland, Baden-Württemberg, Gaggenau, 2005 (Foto: Dietmar Laux), conf. Erwin Rennwald [Forum]
4: Deutschland, Nordrhein-Westfalen, Westfalen, Schloß Holte-Stukenbrock, halboffenes Kulturland, am Licht 16. August 2007 (Foto: Dieter Robrecht), det. Dieter Robrecht
5-7, ♀, ein Individuum: Deutschland, Sachsen, Noitzscher Heide, Lindenhayn bei Bad Düben, Mischwald, Raupe an Wacholder (Juniperus communis) 4. Juli 2007, e.l. 20. Juli 2007 (Studiofotos: Heidrun Melzer), leg., cult. & det. Heidrun Melzer
8: Deutschland, Nordrhein-Westfalen, Wassenberg-Myhl, Lichtfang, 15. Mai 2006 (Foto: Claudia Mech), det. Claudia Mech, conf. Egbert Friedrich & Karola Winzer [Forum]
9, Aberration, f. trexleri SCHAWERDA: Deutschland, Nordrhein-Westfalen, Haan-Rheinland, 85 m, Lichtfang, 25. Juli 2006 (Foto: Armin Dahl), det. Armin Dahl, conf. Thomas Fähnrich [Forum]
10, Aberration, f. trexleri SCHAWERDA: Deutschland, Bayern, Bayerischer Wald, Furth im Wald, Lichtfang, 30. Juni 2010 (det. & Studiofoto: Ingrid Altmann), conf. Axel Steiner [Forum]
11: Griechenland, Sterea Ellada, Vardousia-Gebirge, Athanasios Diakos, N 38° 42' 1'' E 22° 10' 31'', 1000 m, Waldmantel mit vorgelagerter Blumenwiese, 24. Juni 2012, am Licht (det. & fot.: Christian Papé), conf. Michel Kettner [Forum]
12: Russland, Oblast Moskau, Bezirk Orechowo-Sujewo, Dorf Topolinyy, 118 m, ♀ am Licht am 1. Juni 2015, e.o. 10. Februar 2016 (leg., cult., det. & fot.: Andrey Ponomarev) [Forum]
13, Aberration: Deutschland, Nordrhein-Westfalen, Hövelhof, Senne NSG Moosheide nahe Eichenbestand, 106 m, 8. Mai 2018, am Licht (det. & fot.: Renate Wagner), conf. Axel Steiner [Forum]

---
Raupe
1: Deutschland, Bayern, Maßbach, 10. August 2003 (Foto: Oskar Jungklaus), det. Oskar Jungklaus
2-3: Deutschland, Sachsen, Noitzscher Heide, Lindenhayn bei Bad Düben, Mischwald, an Wacholder (Juniperus communis), 4. Juli 2007 (manipulierte Freilandfotos: Heidrun Melzer), leg., cult. & det. Heidrun Melzer
4: Deutschland, Sachsen, Dübener Heide, Umgebung von Eilenburg, Mischwald, an Kiefer (Pinus sylvestris), 24. Juli 2007 (Freilandfoto: Heidrun Melzer), det. Heidrun Melzer
5-6: Deutschland, Sachsen, Dübener Heide, Umgebung von Eilenburg, Mischwald, an Kiefer (Pinus sylvestris), 1. September 2007 (Freilandfotos: Heidrun Melzer), det. Heidrun Melzer
7-9: Deutschland, Brandenburg, Hennigsdorf bei Berlin, Waldlichtung, an Kiefer, 29. August 2010 (manipulierte Freilandfotos: Martin Semisch), det. Martin Semisch, conf. Michel Kettner [Forum]
10, Eiraupe: Schweiz, Graubünden, Feldis, Pro Tuleu, 1050 m, Eiablage am 19. Mai 2012, 29. Mai 2012 (det. & fot.: Heiner Ziegler) [Forum]
11, Eiraupe: Russland, Oblast Moskau, Bezirk Orechowo-Sujewo, Dorf Topolinyy, 118 m, an Picea abies, 1. Juni 2015 (leg., cult., det. & Foto: Andrey Ponomarev) [Forum]
12-15: Russland, Oblast Moskau, Bezirk Orechowo-Sujewo, Dorf Topolinyy, 118 m, ♀ am Licht am 1. Juni 2015, 25. Juli 2015 (leg., cult., det. & fot.: Andrey Ponomarev) [Forum]
16-17: Russland, Oblast Moskau, Bezirk Serebrjano-Prudski, Lischnjagi, 9. & 11. August 2012 (fot.: Andrey Ponomarev), det. Jeroen Voogd [Forum] [Bestimmungskorrektur]

---
Puppe
1-2: Deutschland, Sachsen, Noitzscher Heide, Lindenhayn bei Bad Düben, Mischwald, Raupe an Wacholder (Juniperus communis) 4. Juli 2007 (Studiofotos am 18. Juli 2007: Heidrun Melzer), leg., cult. & det. Heidrun Melzer
3-6: Russland, Oblast Moskau, Bezirk Orechowo-Sujewo, Dorf Topolinyy, 118 m, ♀ am Licht am 1. Juni 2015, 4. August 2015 (leg., cult., det. & fot.: Andrey Ponomarev) [Forum]

---
Ei
1-2: Russland, Oblast Moskau, Bezirk Orechowo-Sujewo, Dorf Topolinyy, 118 m, Weibchen am Licht, 1. Juni 2015, Eier am 5. und 7. Juni 2015 (leg., cult., det. & Foto: Andrey Ponomarev) [Forum]

---
---
Diagnose
Männchen
1-2 und 3-4, zwei ♂♂: Daten siehe Etikett (coll. & Fotos: Egbert Friedrich)

---
Weibchen
1-2, 3-4 und 5-6, drei ♀♀: Daten siehe Etikett (coll. & Fotos: Egbert Friedrich)
7, ♀: Deutschland, Baden-Württemberg, Heidelberg, Dossenheim, 200 m, am Licht, 19. Juni 1984 (leg., det. und Foto: Harald Lahm) [Forum]

---
Genitalien
Männchen
1, ♂: Österreich, Steiermark, Graz, St. Peter, ca. 380 m, Garten, Mischwaldrand, am Licht, 31. Azgust 2018 (präp., det. & Foto: Horst Pichler) [Lebendfoto im Forumsbeitrag]

---
Weibchen
1, ♀: Deutschland, Baden-Württemberg, Heidelberg, Dossenheim, 200 m, am Licht, 19. Juni 1984 (leg., präp. und Foto: Harald Lahm) [Forum]
2-4, ♀: Österreich, Steiermark, Graz, St. Peter, ca. 380 m, Garten, Mischwaldrand, am Licht, 10. Juni 2019 (leg., det., präp. & Foto: Horst Pichler). conf. Hans-Peter Deuring [Falterbilder im Forum]

---
Erstbeschreibung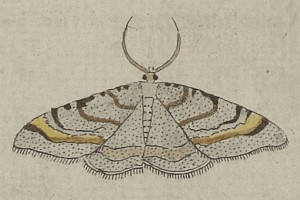 CLERCK (1759: pl. 6 fig. 6) [Nach Digitalisat der Library of Congress, Catalog Number 10030405]
---
Beschreibung von John Curtis
CURTIS (1823-1840) [nach Copyright-freien Scans auf www.biodiversitylibrary.org]
---
---
Biologie
Habitat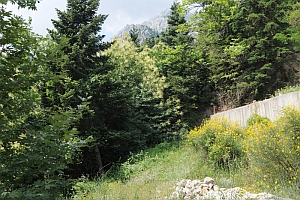 1: Griechenland, Sterea Ellada, Vardousia-Gebirge, Athanasios Diakos, N 38° 42' 1'' E 22° 10' 31'', 1000 m, Waldmantel mit vorgelagerter Blumenwiese, 25. Juni 2012 (fot.: Christian Papé) [Forum]

---
Prädatoren
1, Ammophila sp., Sandwespe: Deutschland, Bayern, Hammelburg, im Weinberg, ca. 260 m, 6. August 2017, Tagfund (Freilandfoto: Oskar Jungklaus), det. Erwin Rennwald [Forum]
2, Raubfliege: Deutschland, Sachsen, Chemnitz, ca. 400 m, 27. Juni 2019, Tagfund (fot.: Marion Friedrich), det. (Falter) Simon Hänni [Forum]

---
---
Weitere Informationen
Etymologie (Namenserklärung)
"lituratus überstrichen, nach der verwaschenen Färbung."
SPULER 2 (1910: 97R)

---
Andere Kombinationen
Phalaena liturata CLERCK, 1759 [Originalkombination]
Unterarten
Macaria liturata pressaria CHRISTOPH, 1893
---
Literatur
Erstbeschreibung: CLERCK, C. (1759): Icones Insectorum rariorum Cum Nominibus eorum trivialibus, locisqve e C. LINNÆI Arch. R. et Eqv. Aur. Syst. Nat. allegatis. Sectio Prima: [8 unpaginierte Textseiten], pl. 1-16. Holmiae. — Digitalisat der Bibliothèque nationale de France: [pl. 6 mit fig. 6].
CURTIS, J. (1823-1840): British Entomology; Being Illustrations and Descriptions of the Genera of Insects Found in Great Britain and Ireland: Containing Coloured Figures from Nature of the Most Rare and Beautiful Species, and in Many Instances of the Plants upon which they are Found. Vol. VI. Lepidoptera, Part II. — [Not paginated]. London (E. Ellis & Co.).
EBERT (2003) (= EBERT 9), 325-328
Lectotypus-Festlegung: MIKKOLA, K. (1985): The Geometroidea and Noctuoidea described by Carl Clerck (Lepidoptera). — Entomologica scandinavica 16: 161-169. Ex libris Werner Wolf.
---
Informationen auf anderen Websites (externe Links)
---
Bestimmungshilfe
/
Schmetterlingsfamilien
/
Geometridae
(Spanner)
EU
←
↑
→
M-EU
←
↑
→

07542
Macaria liturata (CLERCK, 1759) - Violettgrauer Eckflügelspanner
art-mitteleuropa