Bestimmungshilfe
/
Schmetterlingsfamilien
/
Geometridae
(Spanner)
EU
←
↑
→
M-EU
←
↑
→

07561
Isturgia limbaria (FABRICIUS, 1775) - Schwarzgesäumter Besenginsterspanner
---
1, ♂: Deutschland, Baden-Württemberg, Söllingen, Baden-Airpark, ehem. Munitionsdepot, am Licht 27. Juli 2007 (Foto: Peter Buchner), det. Peter Buchner
2, ♀: Deutschland, Baden-Württemberg, Söllingen, Baden-Airpark (ehem. Munitionsdepot), Kescherfang, 13. Mai 2007 (Studiofoto: Dietmar Laux), det. Egbert Friedrich [Forum]
3, ♂: Deutschland, Baden-Württemberg, Baden-Baden, 3. Juli 2006 (Foto: Werner Seiler), det. Thomas Fähnrich [Forum]
4-5, ♂: Frankreich, Vaucluse (84), Crillon-le-Brave, La Sidoine, 360 m, 18. April 2011 (Fotos: Heiner Ziegler), det. Heiner Ziegler [Forum]
6, ♀: Deutschland, Rheinland-Pfalz, Landkreis KL, Hochspeyer, Talbrücke Hundsbrunnertal B37, ca. 250 m, 28. Juli 2011 (fot.: Dieter Lode), det. Erwin Rennwald [Forum]
7, ♀: Deutschland, Nordrhein-Westfalen, Hagen, Südhang, Kyrill-Windwurffläche, Hangweg mit reichlich Besenginster, ca. 300 m, 3. August 2012, Tagbeobachtung (Foto: Josef Bücker), conf. Armin Dahl [Forum]
8, ♂: Deutschland, Nordrhein-Westfalen, Märkisches Sauerland, Iserlohn-Lössel, 28. Mai 2004 (Foto: Hans-Joachim Weigt), det. Hans-Joachim Weigt [Forum]
9 & 10, ♂: Deutschland, Nordrhein-Westfalen, Hagen-Priorei, Stapelberg, Wegrand, 350 m, 7. & 16. Juli 2014 (det. & fot.: Josef Bücker) [Forum]
11: Deutschland, Nordrhein-Westfalen, Hagen, Buscherberg, Tagfund, ca. 300 m, 17. Juli 2014 (det. & fot.: Josef Bücker) [Forum]
12-13, ♀: Deutschland, Rheinland-Pfalz, Kreis Cochem-Zell, Klotten, Naturschutzgebiet Dortebachtal, Aussichtspunkt "Kasteschkopp", ca. 210 m, Raupen am 13. Juni 2014 von Besenginster (Cytisus scoparius) geklopft, e.l. 10. Juli 2014 (cult., det. & fot.: Tina Schulz) [Forum]
14, ♂: Italien, Prov. Brescia, Bagolino, Passo Ravenola, 2050 m, 22. Juni 2018 (det. & fot.: Dierk Baumgarten)

---
Ssp. rablensis (ZELLER, 1868) [hierher oder zu Isturgia roraria ? Subspecies oder Synonym?]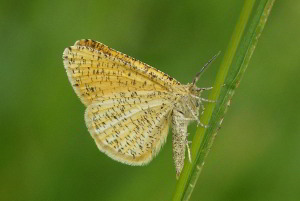 1, ♂: Italien, Friaul, Monte Matajur, Almwiesen, 1500 m, 19. Juni 2014 (Freilandfoto: Eva Benedikt), det. Helmut Deutsch [Forum]

---
Kopula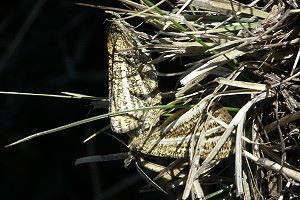 1: Deutschland, Rheinland-Pfalz, Mehlingen, NSG Mehlinger Heide (ehemaliger Truppenübungsplatz), 320 m, auf Störstelle (durch umgefallenen Baum aufgeworfene Erde) an Grasbüschel, 10. Mai 2008 (Freilandfoto: Jutta Bastian), det. Jutta Bastian

---
Eiablage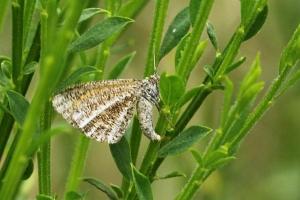 1, an Besenginster (Cytisus scoparius): Deutschland, Hessen, Hesseneck, Magerwiese, 350 m, 12. August 2014, Tagfund (Freilandfoto: Peter Meier), det. Jochen Kostewitz [Forum]

---
Raupe
1-9: Deutschland, Rheinland-Pfalz, Kreis Cochem-Zell, Klotten, Naturschutzgebiet Dortebachtal, Aussichtspunkt "Kasteschkopp", ca. 210 m, tags von Besenginster (Cytisus scoparius) geklopft (cult., det. & fot.: Tina Schulz) [Forum]
1-4: 13. Juni 2014
5-6: 15. Juni 2014
7-9: 22. Juni 2014

---
Puppe
1-3, 4 & 5 (Exuvie & Kremaster): Deutschland, Rheinland-Pfalz, Kreis Cochem-Zell, Klotten, Naturschutzgebiet Dortebachtal, Aussichtspunkt "Kasteschkopp", ca. 210 m, Raupen am 13. Juni 2014 von Besenginster (Cytisus scoparius) geklopft, 14. Juli 2014 (cult., det. & fot.: Tina Schulz) [Forum]

---
Ei
1-2: Deutschland, Rheinland-Pfalz, Kreis Cochem-Zell, Klotten, Naturschutzgebiet Dortebachtal, Aussichtspunkt "Kasteschkopp", ca. 210 m, Raupen am 13. Juni 2014 von Besenginster (Cytisus scoparius) geklopft, 13. Juli 2014 (cult., det. & fot.: Tina Schulz) [Forum]

---
---
Diagnose
Nominotypische Unterart
Männchen
1-2, 3-4, 5-6, 7-8, 9-10, 11-12 und 13-14, sieben ♂♂: Daten siehe Etikett (coll. & Fotos: Egbert Friedrich)

---
Weibchen
1-2, 3-4, 5-6 und 7-8, vier ♀♀: Daten siehe Etikett (coll. & Fotos: Egbert Friedrich)

---
Ssp. rablensis (ZELLER, 1868) [hierher oder zu Isturgia roraria ? Subspecies oder Synonym?]
Männchen
1, ♂: Italien, Friaul, PN Prealpi Giulie, 1260 m, 3. Juni 2005 (leg., det. & Foto: Helmut Deutsch)
2-3, ♂, Daten wie Lebendbild 1 der Unterart: Italien, Friaul, Monte Matajur, Almwiesen, 1500 m, 19. Juni 2014 (det. & Foto: Helmut Deutsch) [Forum]

---
Erstbeschreibung
FABRICIUS (1775: 624-625) [nach Copyright-freien Scans auf www.biodiversitylibrary.org]
---
---
Biologie
Habitat
1, Eiablagehabitat mit Besenginster (Cytisus scoparius), kräftigerer Strauch etwas rechts vor der Bildmitte): Deutschland, Baden-Württemberg, Nördliche Oberrheinebene, Söllingen, Baden-Airpark, 124 m, 11. Mai 2006 (Foto: Erwin Rennwald) [Forum]
2, Ginsterheide als Flug- und Fortpflanzungshabitat: Deutschland, Rheinland-Pfalz, Mehlingen, NSG Mehlinger Heide (ehemaliger Truppenübungsplatz), 320 m, 12. Mai 2008 (Foto: Jutta Bastian) [Forum]

---
---
Weitere Informationen
Etymologie (Namenserklärung)
"limbus Saum, nach dem breiten schwarzen Saum der Vorderflügel."
SPULER 2 (1910: 113R)

---
Andere Kombinationen
Phalaena limbaria FABRICIUS, 1775 [Originalkombination]
Synonyme
Geometra conspicuata DENIS & SCHIFFERMÜLLER, 1775 [Synonym nach SKOU & SIHVONEN (2015) - ob nicht besser zu Isturgia roraria ?]
(Autor: Erwin Rennwald)
---
Literatur
EBERT (2003) (= EBERT 9), 347-349
Erstbeschreibung: FABRICIUS, J. C. (1775): Systema entomologiae, sistens insectorum classes, ordines, genera, species, adiectis synonymis, locis, descriptionibus, observationibus. 1-832 (Flensburg und Leipzig: Officina Libraria Kortii).
SKOU, P. & P. SIHVONEN (2015): The Geometrid Moths of Europe [A. HAUSMANN (ed.)]. Volume 5. Subfamily Ennominae I (Abraxini, Apeirini, Baptini, Caberini, Campaeini, Cassymini, Colotoini, Ennomini, Epionini, Gnophini (part), Hypochrosini, Lithinini, Macariini, Prosopolophini, Theriini and 34 species of uncertain tribus association). - 657 S.; (Brill) Leiden.
---
Bestimmungshilfe
/
Schmetterlingsfamilien
/
Geometridae
(Spanner)
EU
←
↑
→
M-EU
←
↑
→

07561
Isturgia limbaria (FABRICIUS, 1775) - Schwarzgesäumter Besenginsterspanner
art-mitteleuropa