Bestimmungshilfe
/
Schmetterlingsfamilien
/
Coleophoridae
(Miniersackträger, Sackträgermotten)
EU
←
↑
→


Coleophora salviella CHRÉTIEN, 1917
--- ---
---
Diagnose
Geschlecht nicht bestimmt
1-3: Daten siehe Etiketten (fot.: Michel Kettner), coll. ZSM, "Klimesch-Sammlung"

---
Erstbeschreibung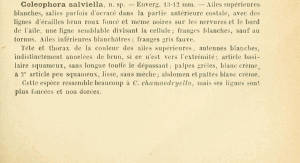 CHRÉTIEN (1917: 495) [nach Copyright-freiem Scan auf www.biodiversitylibrary.org]
---
---
Biologie
Nahrung der Raupe
VAN DER WOLFF (2009) schreibt: "The larva feeds in a case on the leaves of Salvia aegyptiaca L."
---
---
Weitere Informationen
Synonyme
Coleophora pagmana TOLL, 1962
Coleophora gomerella (FALKOVITSH, 1978)
---
Faunistik
Nach der Fauna Europaea [Fauna Europaea, Version 2.4, last updated 27 January 2011] auf den Kanarischen Inseln (in Europa i.e.S. fehlend). VAN DER WOLFF (2009) meldet mehrere Funde von Fuerteventura und konkretisiert das Verbreitungsareal: "Canary Islands (Tenerife, La Gomera, Fuerteventura), Algeria, Turkmenistan, Afghanistan, Pakistan.".
---
Literatur
Erstbeschreibung: CHRÉTIEN, P. (1917): Contribution à la connaissance des lépidoptères du nord de l'Afrique. Notes biologiques et critiques. — Annales de la Société entomologique de France 85: 369-502.
WOLFF, H.W. VAN DER (2009): Coleophoridae from Fuerteventura, Canary Islands, Spain (Lepidoptera: Coleophoridae). — SHILAP Revista de Lepidopterología, 37 (146): 161-166. [zur Arbeit auf redalyc.org]
---
Bestimmungshilfe
/
Schmetterlingsfamilien
/
Coleophoridae
(Miniersackträger, Sackträgermotten)
EU
←
↑
→


Coleophora salviella CHRÉTIEN, 1917
diagnosebild-eu