Bestimmungshilfe
/
Schmetterlingsfamilien
/
Erebidae
(Eulenfalter [z. T.]), Erebinae, Tribus Ophiusini /
Australische Arten 3
EU
←
↑
→
M-EU
←
↑
→
AU
←
↑
→


08902
Ophiusa tirhaca (CRAMER, [1777])
---
1-2: Spanien, Balearen, Mallorca, April 1994 (Freilandfotos: Heidrun Melzer), det. Heidrun Melzer [Forum]
3: Spanien, Kanarische Inseln, Fuerteventura, Südost-Küste, März 2005 (Freilandfoto: Vaclav Masek), det. Vaclav Masek [Forum]
4: Spanien, Gran Canaria, Barranco de la Palma, 4 km n. Mogan, 580 m, 17. Februar 2008 (Foto: Heiner Ziegler), det. Heiner Ziegler [Forum]
5: Griechenland, Karpathos, Amopi, 0 m, 5. August 2008 (Foto: Christopher Rabl), det. Thomas Fähnrich [Forum]
6: Griechenland, Rhodos, Kattavia, 4. April 2009 (Freilandfoto: Helmut Deutsch), det. Helmut Deutsch
7: Italien, Sardinien, Genargentu, ex ovo Zucht 1993 (Zuchtfoto: Helmut Deutsch), leg. Werner Bruer, cult. & det. Helmut Deutsch
8: Schweiz, Graubünden, Albula ca. 2250 m, 20. August 2010 (Foto und det.: Armin Hemmersbach) [Forum]
9: Marokko, Hoher Atlas, Umg. Oukaimeden, Piste zum Tizi-n-Eddi, ca. 2850 m, 20. August 2009, Lichtfang (det. & Foto: Axel Steiner) [Forum]
10-13: Frankreich, Languedoc-Roussillon, Hérault, St. Martin-du-Londres, Campingplatz Pic-Saint-Loup, N 43° 47' 33.25" E 3˚ 44' 30.54", Lichtfang, 28. Juli 2010 (Fotos am 28. Juli [Bild 9] bzw. 29. Juli 2010: Allan Liosi), det. Allan Liosi [Forum]
14-15: Griechenland, Rhodos, Umgebung Kiotari, 20 m, 5. Mai 2011, am Rotweinköder (det. & fot.: Joachim Rutschke) [Forum]
16: Griechenland, Rhodos, Umgebung Kiotari, 20 m, 5. Mai 2011, am Licht der Hotelanlage (det. & fot.: Joachim Rutschke) [Forum]
17: Zypern, Nordzypern, Ortsrand von Catalköy, 50 m, 13. März 2013, Lichtfang (det. & fot.: Wolfgang Langer), conf. Alexandr Zhakov [Forum]
18: Frankreich, Südfrankreich, Cannes, Nähe Saint-Paul-en-Forêt, Nachzucht, 20. Oktober 2013 (cult. & fot.: Heinrich Vogel) [Forum]

---
Raupe
1-3: Italien, Sardinien, Umgebung Palau, 5 m, 20. Oktober 2009 nachts geleuchtet, 24. Oktober 2009 (Studiofotos: Stefan Ratering), det. Stefan Ratering [Forum]
4-6: Italien, Sardinien, Umgebung Palau, 5 m, 20. Oktober 2009 nachts geleuchtet, 22. Oktober 2009 (Studiofotos: Stefan Ratering), det. Stefan Ratering [Forum]
7, jüngere Raupe: Italien, Sardinien, Umgebung Palau, 5 m, Raupe am 20. Oktober 2009 nachts geleuchtet, 22. Oktober 2009 (Studiofotos: Stefan Ratering), det. Stefan Ratering [Forum]
8: Italien, Sardinien, Genargentu, ex ovo Zucht 1993 (Zuchtfoto: Helmut Deutsch), leg. Werner Bruer, cult. & det. Helmut Deutsch
9: Frankreich, Südfrankreich, Cannes, Nähe Saint-Paul-en-Forêt, Nachzucht, 7. November 2013 (cult. & fot.: Heinrich Vogel) [Forum]

---
Puppe
1-2: Frankreich, Südfrankreich, Cannes, Nähe Saint-Paul-en-Forêt, Nachzucht an Geranie, 10. Dezember 2013 (cult. & fot.: Heinrich Vogel) [Forum]

---
Ei
1: Frankreich, Südfrankreich, Cannes, Nähe Saint-Paul-en-Forêt, Nachzucht, 1. November 2013 (cult. & fot.: Heinrich Vogel) [Forum]

---
---
Diagnose
1-2 und 3-4, zwei ♂♂: Daten siehe Etikett (coll. & Fotos: Egbert Friedrich)

1-2, 3-4 und 5-6, drei ♀♀: Daten siehe Etikett (coll. & Fotos: Egbert Friedrich)

Australian specimen
1-3, ♀: data see label (coll. & photos: Egbert Friedrich)

---
Erstbeschreibung
CRAMER ([1777]: 151, 116, pl. CLXXII fig. E) [nach Copyright-freien Scans auf www.biodiversitylibrary.org]
---
---
Biologie
Habitat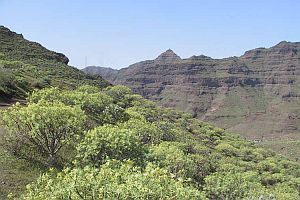 1: Spanien, Kanarische Inseln, Gran Canaria, Barranco de la Palma, 4 km N Mogan, 580 m, 17. Februar 2008 (Foto: Heiner Ziegler) [Forum]

---
---
Weitere Informationen
Etymologie (Namenserklärung)
tirrhaea: "Bewohnerin von Tyrrhenia, dem alten Etrurien, woselbst die Art häufig ist."
SPULER 1 (1908: 312R)

---
Andere Kombinationen
Phalaena tirhaca CRAMER, [1777] [Originalkombination]
Synonyme
Noctua tirrhaea FABRICIUS, 1781
Noctua vesta ESPER, 1789
Noctua auricularis HÜBNER, [1803]
Ophiodes hottentota GUENÉE, 1852
Ophiodes separans WALKER, 1858
Anua absens WARREN, 1913
Anua pura WARREN, 1913
Anua clementi SWINHOE, 1918
Unterarten
Ophiusa tirhaca obscura PINKER & BACALLADO, 1979
---
Faunistik
Nach SWISSLEPTEAM (2010): "Höchstens sehr selten als Einwanderer, in der Schweiz wahrscheinlich nicht heimisch. Bisher nur wenige Belege aus dem Tessin (REZBANYAI-RESER 1998b)."
---
Publikationsjahr der Erstbeschreibung
Wir folgen den Angaben von HEMMING (1958).
---
Literatur
Erstbeschreibung: CRAMER, P. ("1779") [1777]: De uitlandsche kapellen voorkomende in de drie waereld-deelen Asia, Africa en America 2: 1-151, pl. XCVII-CXVII. Amsteldam (S. J. Baalde), Utrecht (Barthelemy Wild).
HEMMING, F. (1958): Opinion 516. — Opinions and Declarations Rendered by the International Commission on Zoological Nomenclature 19 (1): 1-44. London.
SWISSLEPTEAM (2010): Die Schmetterlinge (Lepidoptera) der Schweiz: Eine kommentierte, systematisch-faunistische Liste. — Fauna Helvetica 25. Neuchâtel (CSCF & SEG).
---
Bestimmungshilfe
/
Schmetterlingsfamilien
/
Erebidae
(Eulenfalter [z. T.]), Erebinae, Tribus Ophiusini /
Australische Arten 3
EU
←
↑
→
M-EU
←
↑
→
AU
←
↑
→


08902
Ophiusa tirhaca (CRAMER, [1777])
art-mitteleuropa australis_En