Bestimmungshilfe
/
Schmetterlingsfamilien
/
Nolidae
/ Chloephorinae (Kahneulchen, Wicklereulchen)
EU
←
↑
→

10447a
Garella musculana (ERSCHOFF, 1874)
---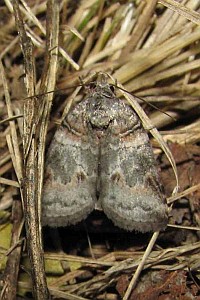 1: Ukraine, Oblast Saporischschja, Rajon Wilnjansk, Jasinowataja, 14 m, 2. September 2011, am Licht (det. & Foto: Alexandr Zhakov) [Forum]

---
Raupe
1: Ukraine, Krim, Феодосия, п. Приморский, 5. Juli 2012 (fot.: Vladimir Savchuk), det. ...

---
Puppe
1-4: Ukraine, Krim, Феодосия, п. Приморский, e.l. leg. Juli 2012 (cult. & fot. am 13. Juli 2012: Vladimir Savchuk), det. ...

---
---
Diagnose
Weibchen
1-2, ♀: Daten siehe Etiketten (fot: Michel Kettner), coll. ZSM

---
Erstbeschreibung
ERSCHOFF (1874: 31, pl. II fig. 27) [nach Copyright-freien Scans auf www.biodiversitylibrary.org]
---
---
Weitere Informationen
Andere Kombinationen
Sarrothripa musculana ERSCHOFF, 1874 [Originalkombination]
Erschoviella musculana (ERSCHOFF, 1874)
---
Faunistik
Der in Zentralasien als Schädling an Walnussbäumen bekannte Falter scheint sich neuerdings in Südosteuropa festzusetzen: "First recorded in 2006 and 2007 from Sevastopol, Camp Gorizont on Crimea as new to Ukraine and Europe (SVIRIDOV 2008), and reported in 2008 in several places on Crimea, from east to west: Feodosia, Krasnolesie village, Simferopol, and Tarkhankut peninsula." (FIBIGER et al. 2009).
SAVCHUK (2013: 129) kommentiert seine Artseite: "Первая бабочка была собрана в 2005 году в Феодосии. Но она не была определена и была опубликована только в 2013 году в книге Савчук В.В. "Атлас бабочек и гусениц Крыма"." Die Art wurde auf der Krim demnach schon 2005 in Feodosia gefunden, wenn auch damals noch nicht erkannt.
(Autor: Erwin Rennwald)
---
Literatur
Erstbeschreibung: ЕРШОВЪ, Н. Г. (1874): Чешуекрылые (Lepidoptera). — In: ФЕДЧЕНКО, А. П. (1874): Путешествие въ Туркестанъ 2 (5). I-VI, 1-129, pl. I-VI. С.-Петербургъ, Москва.
САВЧУК, В.В. (2013): Атлас бабочек и гусениц Крыма. [SAVCHUK, V.V. (2013): Atlas of butterflies and caterpillars of Crimea. [in Russian]]. - 296 S.; Simferopol (Simferopol Biznes-Inform). [Sekundärzitat nach Buchscan V. Savchuk]
---
Informationen auf anderen Websites (externe Links)
---
Bestimmungshilfe
/
Schmetterlingsfamilien
/
Nolidae
/ Chloephorinae (Kahneulchen, Wicklereulchen)
EU
←
↑
→

10447a
Garella musculana (ERSCHOFF, 1874)
non-d-ch-a