Bestimmungshilfe
/
Schmetterlingsfamilien
/
Coleophoridae
(Miniersackträger, Sackträgermotten)
EU
←
↑
→
M-EU
←
↑
→

02695
Coleophora salinella STAINTON, 1859
--- ---
Raupe, Raupensack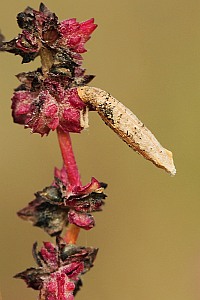 1: Slowakei, Tvrdošovce, Raupensack an Strand-Melde (Atriplex litoralis) 22. September 2012 (leg., det. & Foto Ignac Richter)

---
---
Diagnose
Männchen
1, ♂: Slowakei, Tvrdošovce, 17 . August 2001, leg. & det. Ivan Richter (Präparation & Foto: František Kosorín)

---
Genitalien
Männchen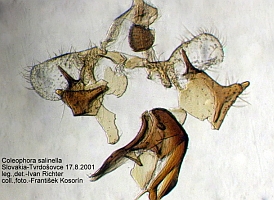 1, Präparat des unter Beleg 1 abgebildeten ♂: Daten siehe dort (Präparation & Foto: František Kosorín)

---
Erstbeschreibung
STAINTON (1859: 154) [nach Copyright-freiem Scan auf www.biodiversitylibrary.org]
---
---
Biologie
Nahrung der Raupe
Nach EMMET et al. (1996) lebt diese typische Küstenart an salzigen Ufern an Strand-Sandmelde (Halimione portulacoides) und einer Reihe von Melden-Arten (Atriplex spp.).
---
---
Weitere Informationen
Literatur
EMMET, A.M., LANGMAID, J.R., BLAND, K.P., CORLEY, M.F.V. & J. RAZOWSKI (1996): Coleophoridae. - S. 126-338. In: EMMET, A.M. [Hrsg.](1996): The moths and butterflies of Great Britain and Ireland. Volume 3. Yponomeutidae - Elachistidae. - 452 S.; Colchester, Essex.
Erstbeschreibung: STAINTON, H. T. (1859): Lepidoptera. New British Species in 1858. — The Entomologist's Annual for MDCCCLIX: 145-157 + frontispiece. London (John van Voorst).
---
Informationen auf anderen Websites (externe Links)
---
Bestimmungshilfe
/
Schmetterlingsfamilien
/
Coleophoridae
(Miniersackträger, Sackträgermotten)
EU
←
↑
→
M-EU
←
↑
→

02695
Coleophora salinella STAINTON, 1859
art-mitteleuropa-nurRaupe