Bestimmungshilfe
/
Schmetterlingsfamilien
/
Erebidae
(Eulenfalter [z. T.]) / Arctiinae (Bärenspinner), Tribus Arctiini, Subtribus Arctiina
EU
←
↑
→

10591
Arctia alpina (QUENSEL in ACERBI, 1802)
--- ---
Puppe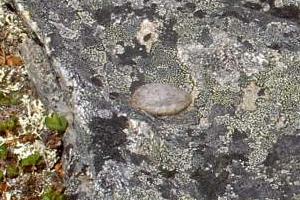 1, Kokon: Finnland, Lappland, Enontekiö Urtas, 29. Juni 2005 (det. & fot: A.Tervonen)

---
---
Diagnose
Männchen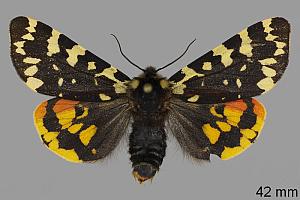 1, ♂: Finnland, Lappland, Urtaspahta, e.o. 1993 (coll. & fot: Pekka Malinen, kleines Bild redaktionell an Standardmaße angepasst), leg. T. & M. Vuola & J. Kytömaa

---
Weibchen
1, ♀: Finnland, Lappland, Urtaspahta, e.o. 1977 (fot: Pekka Malinen), leg. S. Korpela, coll. LTKM
2, ♀: Finnland, weitere Daten unbekannt (fot: M. Virtala), coll. Mus. Zool. Oulu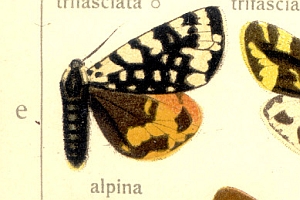 SEITZ (Hrsg.) (1909-1914: pl. 17e) [Reproduktion: Michel Kettner nach Exemplar in seinem Besitz]
---
Erstbeschreibung
QUENSEL in ACERBI (1802: 253, pl. I fig. 4) [nach Copyright-freien Scans auf www.biodiversitylibrary.org]
---
Raupe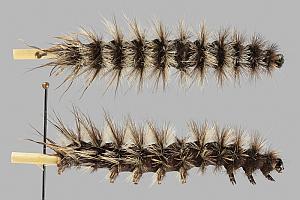 1: Finnland, Lappland, Enontekiö, e.o. Zucht 1977 (fot: Pekka Malinen), leg. Eila Tiihonen, coll. LTKM

---
---
Weitere Informationen
Etymologie (Namenserklärung)
"die Alpine."
SPULER 2 (1910: 137L)

---
Andere Kombinationen
Bombyx alpina QUENSEL, 1802 [Originalkombination]
Acerbia alpina (QUENSEL in ACERBI, 1802) [bis RÖNKÄ et al. (2016) übliche Kombination]
Synonyme
Arctia thulea DALMAN, 1823
Unterarten
Acerbia alpina sibirica (BANG-HAAS, 1927)
Acerbia alpina johanseni (BANG-HAAS, 1927)
Acerbia alpina severa (SALDAITIS & IVINSKIS, 2004)
---
Taxonomie
RÖNKÄ et al. (2016) kommen nach eingehender genetischer Untersuchung zum Schluss, dass die bis dahin als eigene Gattungen geführten Taxa Eyprepia, Epicallia, Eucharia, Hyphoraia, Parasemia, Zoote, Pericallia, Nemeophila, Ammobiota, Callarctia, Platarctia, Chionophila, Eupsychoma, Gonerda, Platyprepia, Dyar, Preparctia, Oroncus, Acerbia, Pararctia, Borearctia und Sinoarctia alle als Synonym zur Gattung Arctia aufzufassen sind
---
Literatur
Erstbeschreibung: ACERBI, J. (1802): Travels through Sweden, Finland, and Lapland, to the North Cape, in the Years 1798 and 1799. Vol. II: i-viii, 1-380, pl. I-XVII. London (Joseph Mawman). — Digitalisat von Google Books im Viewer der Hathitrust Digital Library: [253], [pl. I].
RÖNKÄ, K., MAPPES, J., KAILA, L. & N. WAHLBERG (2016): Putting Parasemia in its phylogenetic place: a molecular analysis of the subtribe Arctiina (Lepidoptera): Molecular phylogeny of Arctiina. — Systematic Entomolog, 41: 844-853.DOI: 10.1111/syen.12194. [Zugang zum open access-Dokument bei onlinelibrary.wiley.com]
SEITZ, A. (Hrsg.) (1909-1914). Die Gross-Schmetterlinge der Erde. Band 2: I-VII, 1-479, pl. 1-56. Stuttgart (Fritz Lehmann Verlag).
---
Informationen auf anderen Websites (externe Links)
---
Bestimmungshilfe
/
Schmetterlingsfamilien
/
Erebidae
(Eulenfalter [z. T.]) / Arctiinae (Bärenspinner), Tribus Arctiini, Subtribus Arctiina
EU
←
↑
→

10591
Arctia alpina (QUENSEL in ACERBI, 1802)
non-d-ch-a-nurRaupe